110 Clubs/Teams and Growing
Now available to Illinois motorists Bicycle Plates – Buy yours today!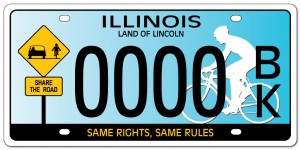 Join the Illinois Cyclist Email list
This mailing list, ILCycList, is to be used for announcements of activities of interest to Illinois bicyclists.
These would include invitational rides, races, club information including events open to the public,
advertisements for ride partners and route advice, want ads and newsletter articles to share.
League of Illinois Bicyclists Active Transportation Alliance

Clubs in Bold have a link to my Bike Page
If you know a club that is not listed please email me
send email here
If you feel this site has helped you with Bike information and would like
to make a donation to Mike's Mega Bicycle Links please click below.
Last page update 12/13/2014

Return to Mike's Mega Bicycle Links