Illinois and Chicago Bike Links
Illinois Bike Paths & Maps Illinois Bike Rides for 2018
This page sponsored by

Your Banner could be here
Email me at the bottom of the page
---
Now available to Illinois motorists Bicycle Plates – buy yours today!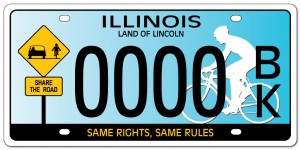 Handcycling is an adaptive form of biking for people who are limited to wheelchairs and mobility scooters.
It can be a great recreational activity to maintain muscle tone for disabled individuals and is also a competitive sport governed by the USHF.

Last update 1/14/2018
If you would like a link added or there are dead or incorrect links please email me.
Send email here If you feel this site has helped you with Bike information and would like
to make a donation to Mike's Mega Bicycle Links please click below.

Return to Mike's Mega Bicycle Links