I & M Canal ride report Ottawa to Lasalle-Peru with photos
I & M Canal ride report Mc Kinley Woods (Channahon to Aux Sable aqueduct) with photos
GITAP Bike Tour Gitap 2004 Photos Gitap 2005 Photos
Grand Illinois Trail 2000 David Johnsen

Other Illinois links at the bottom of this page

Now available to Illinois motorists Bicycle Plates – reserve yours today!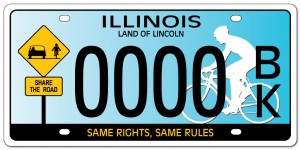 Northeast Trails (If any trails are closed to bikes please let me know.)
Northwest Trails
East Central Trails
West Central Trails
Southern Trails

Virgil Gilman Trail: Travels through quite prairie land from Waubonsee Community College into the Chicago suburbs.
Madison Country Transit Nature Trail: Adjacent to the LCCC Nelson campus the trail runs 13 miles south of Lake State Park and connects Southern Illinois University campus.
SIUE even offers a bachelors degree in recreation where students can learn to design and build biking trails for their communities.
American Bike Trails Maps and booksBicycle Trails in Illinois LIB
Trail Resources Illinois and other states Maps for sale
Lake County bike trails
Grand Illinois Trail (Future trail)
Grand Illinois Trail (Openlands) Has good maps with places to stay and bike shops along the route
Trailmonkey Northern Illinois Trails with maps
Quad Cities Bike Trails
Illinois Bike Trails (Mtbr)
Illinois Trails Conservancy
Illinois Trail Sites (Grand Illinois Trail)
Chart 41 Illinois trails (pdf file)
IDOT online maps
Illinois Trail Sites (Grand Illinois Trail)
IDOT Alphabetical Listing of Trails
About-Bicycles Touring & Trails (Rob Chapman has some nice ride reports and photos of northern Illinois trails)
Bike Illinois Trails
If you know of any trails or maps not listed please forward me the info. Thanks, Mike
send email here
If you feel this site has helped you with Bike information and would like
to make a donation to Mike's Mega Bicycle Links please click below.
Last update 5/6/2015
Return to Mike's Mega Bicycling Links