Elroy Sparta Trail
Ride report with pictures from the Elroy Sparta trail in Wisconsin.
August 18th, 2001
Click on any photo to see the full size image.
Page 4
To Sparta
I crossed over a newer bridge.


Since there was a great view from the bridge I stopped to take this picture looking South.


There was another nice looking farm on the right of the trail.

A little farther down the trail you will cross over a slow moving creek.

Farther down the path there is a nice rock formation just before the end of the trail in Sparta.


Many names have been carved into the rocks but it is still a pretty site, especially late in the day when the sun is at a lower angle.
I rode to the end of the trail (Sparta trailhead)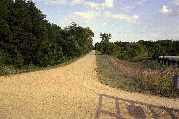 and waited about 5 minutes for Jenny to arrive. She was quite tired after 50 miles of riding.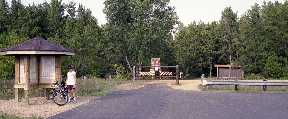 Lloyd and Bud showed up about 15 minutes later.
From the Sparta trailhead we rode back to Sparta and stopped to take pictures of the worlds largest bicycle.


Here is a picture of Jenny and me being dwarfed by the big bike.



Here is a picture of Lloyd and Bud in front of the big wheel.


From there we rode another block to the Best Nights Inn where are cars were parked and loaded up our bikes.
My bike computer showed 51.6 miles for the day. A nice ride.
We were a little hungry and very thirsty so we drove across the street to A & W. Lloyd had a shake, Bud, Jenny and me had large root beers that really hit the spot.
We all had something to eat, we said goodbye to Lloyd and Bud and we headed back to Illinois.
If you like seeing or meeting a lot of people ride the trail on the weekend.
If you like peace and quiet and not being around a lot of people ride the trail on a weekday.
The trail is 32 miles long with some slight uphill sections. If you do not ride a lot of miles I would recommend using Outspokin' Adventures and ride just the Elroy Sparta trail one way. Maybe spend an extra day and ride one of the other trails in the area. Don't push yourself. Take your time and enjoy the scenery. Bring a camera and take some pictures while enjoying the Granddaddy of all Railtrails in the USA.
If you are ever in the Elroy Sparta area make time to take a ride on the trail. If you don't have your bike with you there are several places along the trail where you can rent a bike for a very reasonable rate. (Check out the links page) Don't miss tunnel #3. It's an experience that you will never forget. If you are planning a vacation in the area try to stay a couple of days and ride several trails in the area. Take your time and enjoy the scenery on some of the most beautiful Railtrails in the USA.


Please email me with any questions or comments